Heat-flo Announces Two Lines of Commercial Electric Water Heaters!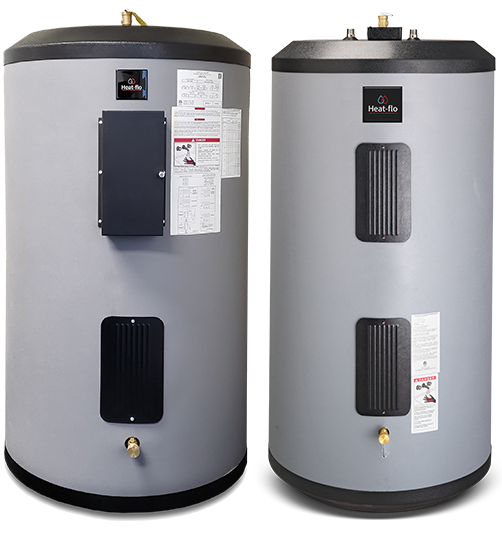 Both series feature the same high quality stainless steel construction that Heat-flo is known for, with a welded in place stainless steel cold water dip tube, factory installed T&P valve and tank drain. Like the rest of the Heat-flo tanks, they feature an environmentally conscious HFO based foam insulation, with an insulating value of R-15+. and a tough thermoplastic outer jacket.
New for the electric units are the integral dielectric unions, offset inlet and outlet fittings, and factory supplied ¾" copper leaders for quick sweat, press or push on connections.
The EC series of light commercial electric water heaters are available in 66, 80 and 119 gallon capacity. They feature a standard 4x4 top connect electrical junction box, and come standard with 2- 4500 watt incoloy elements. The low watt density elements spread the heating over a large surface area, providing a longer operational life than a standard water heater element.
The SSN/ SSL series electric water heaters are more advanced: Equipped with all of the features of the EC models, the SSN/ SSL are designed to be fully convertible in wattage, voltage and phase. An integrated wiring terminal block, large hinged service box and over 25 conversion kits are available for both single and dual element tanks. Low height models (SSL) are available from 10 to 50 gallon capacity, where normal height units (SSN) range from 40 to 119 gallons. The SSN/SSL series flexibility eliminates the problem of stocking multiple tanks of the same size to accommodate different electrical constraints.